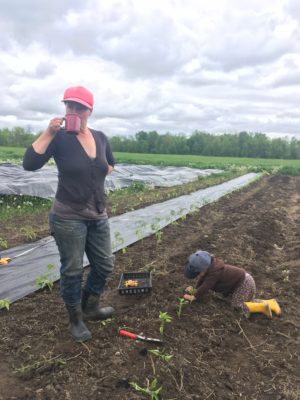 Time flies on the farm at this busy time of year, and it might already be June by the time this "May Update" gets to you! Despite the challenges that a rainy Spring brings, as long as the fields aren't under water I welcome it after last season's unrelenting dry and heat. There was enough of a break in the rain last week that I was able to catch up on all of the Spring seeding and much of the transplanting. That being so, the CSA may be able to start as early as the 13th/15th of June, that is only a few weeks away! I will send another update confirming the tentative dates soon.
In the mean time, if you haven't had a chance the send your payment, please don't hesitate!
The Spring, perhaps because of all the rain, there seems to be more wildlife around the farm. We have at least three bird families nesting in the drive shed, two of whom are lovely mosquito-eating Barn Swallows. There have been lots of deer in the back field, with plenty to eat that is not the garden — we hope! Bumblebees and snakes have been enjoying the flowers and shelter of the greenhouse, and Peter even spotted a Bald Eagle one morning while I was harvesting. I now have a much greater affection for the scraggly half dead tree that was providing a great temporary perch for such a rare visitor.
Looking forward to seeing you all soon,
Jenny